Opus
An innovative, first-of-its-kind radiofrequency skin resurfacing technology improves the skin's tone and texture with treatments that take 10 to 15 minutes and require minimal downtime.
Opus Plasma represents the next generation of fractional skin resurfacing treatments for women and men of most skin types who want to minimize wrinkles and reverse damage caused by the sun and the natural aging process. The procedure's versatility enables us to adjust treatment intensity from light to aggressive, depending on the patient's skin condition and goals.
The innovative platform combines radiofrequency (RF) energy with plasma created when the RF energy emitted from the tips of metal pins react to atmospheric pressure.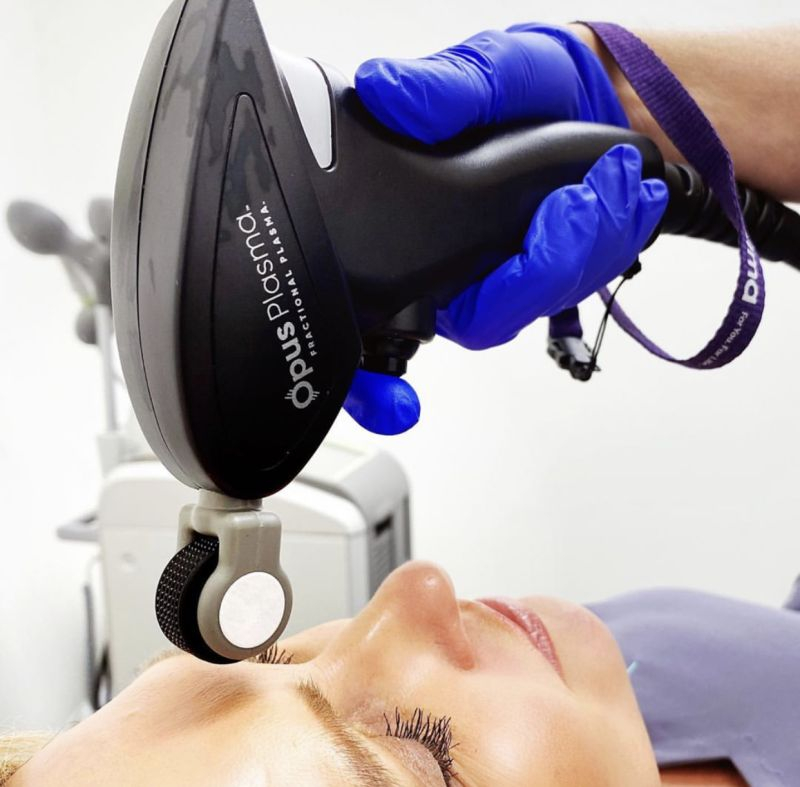 Like other laser skin resurfacing treatments, Opus Plasma removes only a fraction of the skin in the targeted area. Fractional skin resurfacing creates thousands of tiny micro-injuries to the skin while leaving the surrounding tissue undamaged. The body's natural healing response repairs these controlled wounds by producing new collagen and elastin, the building blocks of smooth, youthful-looking skin.
Unlike traditional laser-based skin resurfacing technologies, however, Opus Plasma precisely controls the time that radiofrequency energy makes contact with the skin. This minimizes unwanted inflammation that typically leads to longer recovery times.
Who Can Benefit From Opus Plasma Treatments?
Because we can adjust the treatment's intensity, virtually anyone with concerns about their skin's appearance is a good candidate for an Opus Plasma procedure. It produces results similar to an aggressive CO2 laser or a gentle laser peel, depending on the setting used. The difference with Opus Plasma is that the treatment and recovery time is minimal compared to other laser treatments.
The benefits of an Opus Plasma treatment include:
Reduced appearance of fine lines, wrinkles, and loose and saggy skin

Overall skin rejuvenation

Minimized acne scars, surgical scars, and stretch marks

Popular treatment areas include the face, neck, abdomen, and arms.
WHAT HAPPENS DURING AN OPUS PLASMA TREATMENT?
We begin by applying a topical anesthetic to the target area to minimize discomfort during the session. Once the skin is numb, the specialist glides the Opus Plasma handpiece across the skin. We can treat the entire face in 15 minutes. Once the procedure is finished, we apply a protective balm. Patients usually notice some slight redness and swelling after the treatment, but it resolves on its own within 24 to 48 hours in most cases. More aggressive treatment settings can extend the downtime.
Even though most patients see results after a single treatment, we recommend 2 to 3 treatment sessions for optimal results.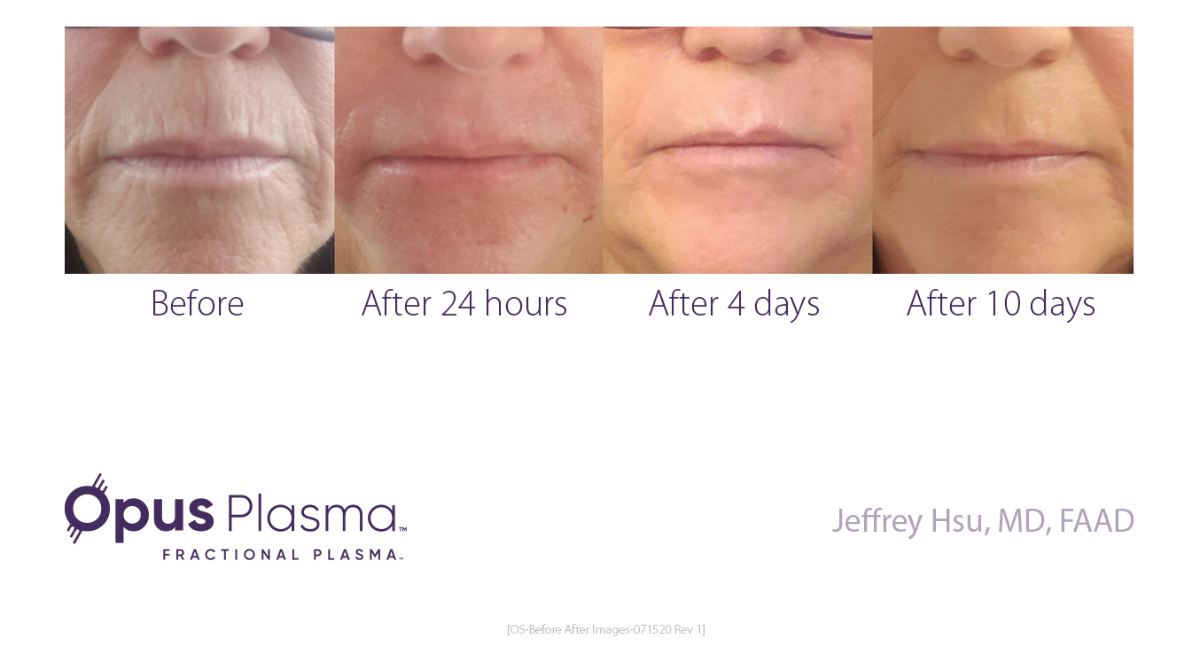 FREQUENTLY ASKED QUESTIONS
What is Opus Plasma?
An innovative, first-of-its-kind radiofrequency skin resurfacing technology using PLASMA to improve skin tone, texture, wrinkles & fine lines, scars, acne scars, & stretch marks.
How does it work?
Opus Plasma removes a small fraction of the skin, which stimulates the surrounding skin to repair itself.
Who is a good candidate?
Across the country we have seen anyone from their early 20s all the way to their 90s get the Opus treatment. By customizing the settings we can treat those looking for a simple "glow up" all the way to someone looking for very aggressive resurfacing. We can even focus in on typical trouble areas such as the neck, around the mouth and eyes.
How many treatments are required?
During your consultation your provider will assess your skin to personalize a treatment plan for you. Best results are typically seen after 3 treatments, although noticeable improvements may be seen after 1 treatment.
How long does each treatment take?
This will vary based on your personalized treatment plan recommended by your provider. For a full face resurfacing procedure we typically schedule an hour - this allows time for the application of topical anesthetic with the actual treatment taking about 15 minutes.
Does it hurt?
All resurfacing treatments come with some level of discomfort. Many patients report feeling hot in the treatment area. Topical anethetic may be used to numb the treatment area prior to the Opus treatment.
What is the downtime?
This will vary depending on treatment plan recommended by your provider. You may experience 24-48 hours of mild to moderate redness and swelling. Makeup may be worn after 24 hours.
What Areas Can Be Treated with Opus Plasma Resurfacing?
Face
Neck
Chest
Hands
Legs
Abdomen
What Types of Problems Can Be Treated With Opus?
Photoaging (fine lines and wrinkles)
Skin laxity
Uneven skin tone
Acne scars
Surgical scars
Stretch marks (striae)
Unwanted Pigmentation
Rebuilding Collagen
Skin Dullness and Texture
What Is A Typical Treatment Like?
For a typical treatment, we first apply a topical anesthetic. Once the anesthetic has taken effect, we remove it completely before proceeding with treatment. The treatment itself is typically only mildly uncomfortable and most patients tolerate the treatment well. On a scale from 1-10, most patients report a pain level of 2-3. Following treatment, you will experience some redness, which will typically fade within a few days.
For more aggressive treatments at Nakatsui DermaSurgery (formerly Groot DermaSurgery Centre), more potent anesthetic (nerve blocks or iv sedation) is required and the patient can expect more downtime (albeit less than what you would experience from a laser treatment with the same benefit). Our dermatologist, Dr. Nakatsui, has been impressed by how quickly the skin heals following the plasma resurfacing treatment.
How Many Treatments Will I Need?
We recommend 3-5 sessions for our typical treatments spaced 2-4 weeks apart. Settings can be increased with each session to enhance the results. Many patients are seeing significant results even after the 1st treatment.
If more aggressive settings are used, less treatments are required although it requires more anesthetic and more downtime following the treatment.
How Long Will My Treatment Take?
Expect to spend approximately 90 minutes for a typical treatment. The topical anesthetic will need to stay on your skin for approximately 45 minutes prior to the resurfacing treatment.
How Do I Prepare for My Appointment?
Hydration is very important prior to your treatment. Dr. Nakatsui recommends increasing your daily water intake starting 4 days before your appointment.
What Will I Look Like After a Typical OPUS Treatment?
Most patients will be red, similar to a sunburn, immediately following a typical treatment. The redness will quickly improve over the next 2-3 days. Very rarely, patients may experience crusting in areas that have been treated more aggressively. Most patients report completely recovery within the 3-7 days.
What Do I Need to Know About After the Procedure?
Following a typical treatment, you will need to avoid sun exposure for 2 weeks and apply a sunscreen with minimum SPF 50 while outdoors. You can restart exercise after 24 hours. If you are using topical anti-aging cream, you can restart 2 weeks post treatment. Wash with a mild soap and apply an occlusive topical agent such as Aquafor or Vaseline while skin is healing. You can exfoliate after day 7.
How Much Does an OPUS Resurfacing Treatment Cost?
Price varies based on the area being treated and the intensity of the treatment. Prices are very affordable when compared with other traditionally used laser treatments on the market.
How Long Will My Results Last?
Results will typically last for many years, although the aging process will inexorably and slowly continue as it always does.
What Is a Plasma Pen?
Plasma Pens are very different from Opus. Plasma pens are small handheld devices that generate an electrical discharge, causing a small but still too large controlled burn at the point of contact. Plasma pens have been sold by beauty academies in Canada and are not authorized for use by Health Canada. Before Opus, there was no device that could administer evenly spaced, micro dots of plasma. In addition, the power and depth of treatment is completely tunable with Opus fractionated plasma.